The German era petromax is a long disappeared legend of quality.
Having found Pelam.de who supplied these lanterns in Europe did not want to know that their Chinese lanterns have quality control issues.
Britelyte of USA sell petromax in USA
So I went on their forum and was threatened  and banned for politely posting my issues with the product and the lack of interest by pelam to resolve these in the hope they would offer a helpful response.
The opinion is that the manufacturer has no responsibility over product quality control and it is the dealers issue! WTF are they on?
The supplier has sent two and copying them the email to pelam they appear to wash their hands of the issues
When the lamp arrived I was impressed with the finish, but I had not expected to use Maintenance kit on a brand new lamp and have used 6 mantles in the process of rectifying issues that should have been sorted at factory.
I am extremely disappointed the finish can be so good and the quality control so bad.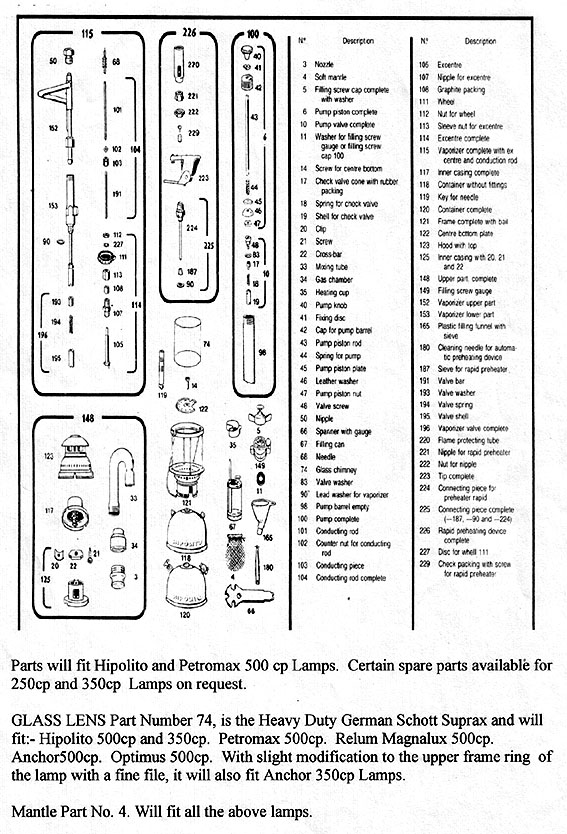 First Lantern
The part 90 lead washer leaked paraffin all over tank.
Secondly the shut off valve rubber washer had come partially out of brass housing 193 and fuel jet cleaning needle 68 was bent.
replacing parts 90 and 68 from maintenance kit I had purchased separately- I hoped the situation was resolved.
Part 33 had shards of metal in it, shards becoming dislodged when hot and damaging mantles-until I cleaned them out with a soft bottle brush.
The shut of valve seat on 153 is not particularly good and this sharp edge contributed to failure to shut off after several uses.
(can be resolved by filing it down it so the edge is not razor sharp)
Pressure release screw does not seat on 149- mine leaked badly and needed tightening` up tight quite a few times to seat the needle.
I also notice that jet 68 the hole is not centralised, while I don't believe this affects overall operation, it does indicate sloppy quality control
Finally I had an operational lamp, that didn't leak paraffin and seems to maintain pressure
It really is a shame that a little quality control would solve these issues, though I have found similar comments on various sites yesterday evening.
Lantern 2

(appears to have come from a later batch)

Tank 118 had poor soldering for an item that sells on cosmetic finish, solder blob in 149 and solder and metal shards in 118 cracked chrome and sloppy pump mechanism.
2 mantles that even following instructions to the letter blew a hole in them when lit- mantle from spares kit do not suffer this problem
So with two unsatisfactory lanterns and little hope of being supplied one that was completely defect free,
I have swapped parts 149 after removing blob of solder
and 153 from lantern 2 to lantern 1 which although the nut to attach part 195 isn't soldered on straight has resulted in one functional lantern.
I am very disappointed that I have had to use part 90 and 68 and six mantles 4 to achieve a satisfactory result.
I had not expected when a anchor Lantern costs 3/4 less to purchase that a petromax costing 3 times as much petromax has such poor quality control.
As a present of considerable value it is disappointing for us not to be able to go fishing with it over the Christmas period.
Further to this Pelam are trading on past glory and with the quality control issues the product isn't worth the price- I now have one repaired lantern that I  am disappointed with the effort to get it right and one that could be made good but is generally a Friday afternoon special.
Claims these are not from pelam- see picture below
Domain: petromax.de
Nserver: ns1.first-ns.de
Nserver: robotns2.second-ns.de
Nserver: robotns3.second-ns.com
Status: connect
Changed: 2009-05-27T17:03:05+02:00
[Tech-C]
Type: PERSON
Name: Jonas Taureck
Address: Sudenburger Wuhne 61
PostalCode: 39116
City: Magdeburg
CountryCode: DE
Phone: +493914002604
Fax: +493914002606
Email: admin@pelam.de
Changed: 2009-05-26T13:03:11+02:00
[Zone-C]
Type: PERSON
Name: Jonas Taureck
Address: Sudenburger Wuhne 61
PostalCode: 39116
City: Magdeburg
CountryCode: DE
Phone: +493914002604
Fax: +493914002606
Email: admin@pelam.de
Changed: 2009-05-26T13:03:11+02:00